23 03 08 - 13:15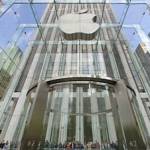 Fortune Magazine heeft jaarlijks een lijst van "America's Most Admired Companies" en heeft onlangs de 26e versie uitgebracht. Dit keer wordt de lijst aangevoerd door Apple, vorig jaar nog zesde op de lijst. Apple versloeg Berkshire Hathaway en General Electric op weg naar de top.
De top 20 van de lijst meest bewonderde bedrijven komt tot stand door de respons van ruim 3500 directeuren en managers op de vragenlijst van Fortune. Andere bekende bedrijven zijn o.a. Google (nr 4), Toyota (nr 5) en Starbucks (nr 6).
Op de foto het Apple Centre op Fifth Avenue en
hier
is een QuickTime VR filmpje te bekijken van die spectaculaire entree. Hieronder de legendarische commercial van Apple.
Here's to the crazy ones,
the misfits, the rebels,
the troublemakers,
the round pegs in the square holes...
the ones who see things differently...
they're not fond of rules...
You can quote them,
disagree with them,
glorify or vilify them,
but the only thing you can't do is ignore them because they change things...
they push the human race forward,
and while some may see them as the crazy ones,
we see genius,
because the ones who are crazy enough to think that they can change the world,
are the ones who do.
Steve Jobs - US computer engineer & industrialist)
Eén reactie